KENDRA YEE
By SPECIWOMEN Illustration SENDRA UEBELE
"Women surround me! I'm super thankful to have grown with a variety of mentors, both young and old, which have helped fostered trusting relationships. It's important to ask help from others and also return back to the community and care for people who have looked out for you"
Who are you?
My name is Kendra Yee, I was born in Toronto and I am currently attending OCAD U for illustration. My hands are usually covered in mini patches of ink, collecting the history of whatever projects I was working on the day before.
How did you first get into art?
I'm not even sure! I've been working on art for as long as I can remember. It's something that really finds you, rather than you finding it. When I was just a baby, my parents gave me a bowl of mashed potatoes that were coloured blue. My mum read in a book that this would be a fun activity for kids- helping them experiment with colour and express their feelings. The child was suppose to take the mashed potatoes and create spiralled shapes and patterns. I ended up just eating the mashed potatoes, I feel like this says a lot about my personality.
What is the purpose of your work?
It's an ever changing narrative, but I'm mostly curious about the dualities that lead us down different paths and the need to express the worlds which exist in my head, combining them with vernacular moments of every day life. Most of these landscapes seem fictitious, but often they are grounded by past memories that seem to have had a lasting impact.
What materials do you use?
Anything that I can get my hands on. The most recent series of paintings were a combination of: spray paint, ink, watercolours, acrylic, paper and wood. I also love working with screen printing, risograph and various digital programs to create my zines. I've also been creating small installations, using found materials and forming small sculptures out of ceramics. Next is bronze and textiles!
Who inspires you?
My family are a huge inspiration. My parent's aren't practicing artists, but they have always loved pop-culture and the arts industry. The Toronto arts community at the moment has some crazy emerging artists participating throughout all different scenes. I love working with members within the zine and comic books community; it's super DIY and people really care about the works they're making.
I made a list the other day of things that inspire me. Some things on the list include; tracksuits, fennel flowers, public transportation, corner shops with stale candy bars, fake designer purses, fake eyelashes, peoples internet history, 'images similar to,' train tracks, airplane runways, shrines, objects in museums without tags....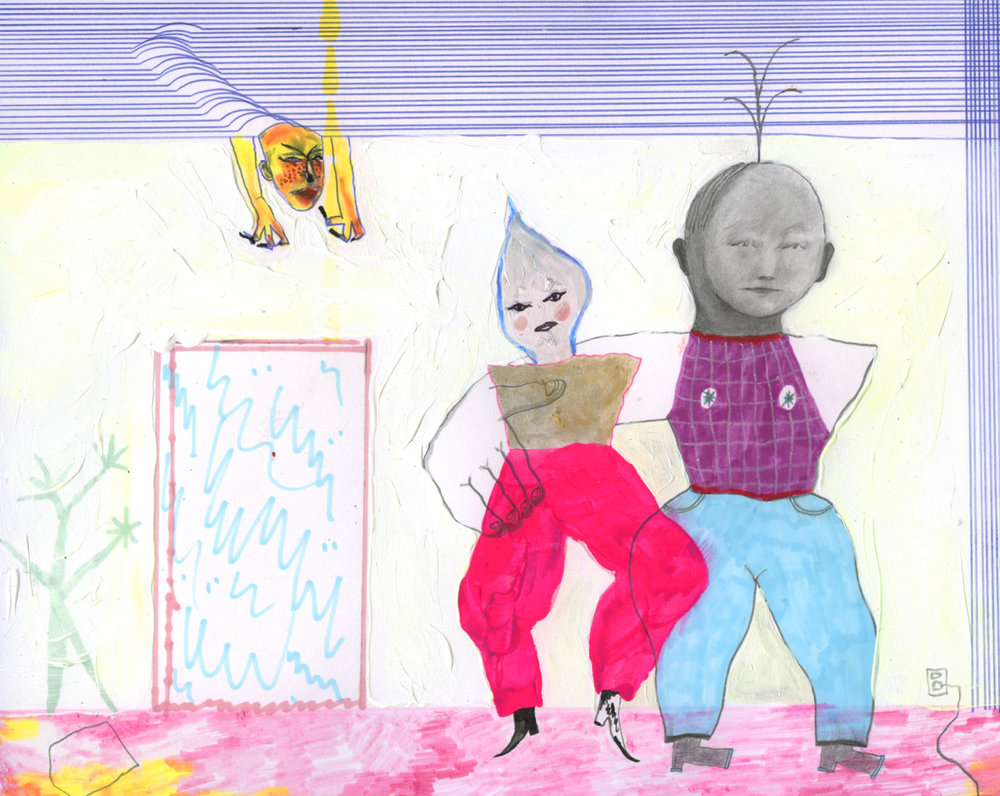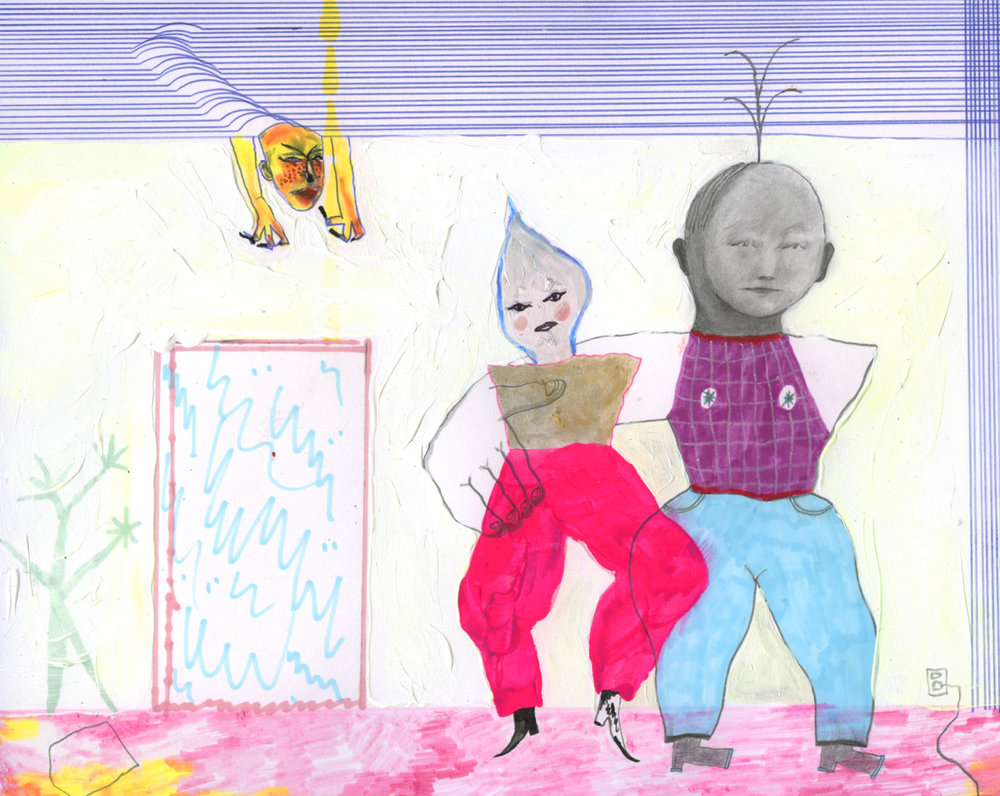 Where do you prefer to work?
My place of work is down in Kensington at The White House Studio Projects, it's nice to get lost within the images your making while being surrounded by a variety of talented, emerging artists. I also love riding around on the street car (especially when I'm not in a hurry) and sketching things that are picked off the paths outside.
Who is your work for?
My works is for anyone and no one at all. It's wonderful to have people to relate to my work and have them develop new discussions about all the concepts or figures within it. People see things so differently. I feel like when discussing to others about art, it's like a game of eye spy- they're pointing out things you would never notice. But, if no one was looking at it, I would be just as happy burrowing away making silly doodles by myself.
Has your art ever been on display?
I've been in a couple of group shows and solo shows. I just finished a residency at The White House Studio Projects, and presented a series called, "My Best Friend...... Felon." I've done some publications, city installations like a mural project at Peter and Richmond, and some public art projects, most recently with the Art Gallery of Ontario (AGO). I worked with the Youth Council to design illustrations and sets for their event, "Strawberry Moon." Coming up in the fall, I'm going to be hosting two "Free after Three" parties at the AGO (stay tuned for more info)! I also have an upcoming show next year at Xpace, collaborating with my friend Tova Benjamin.
What are your favorite places in your city or around the world?
Toronto will always be the number one home in my heart. There is always something to do, but it's great just to hangout in the parks during the summer. It really feels as if nothing really matters but that moment. There are also great places to eat on every street, from Falafel Tuesdays at Ali Baba's to the "World's Best Tacos" at Tacos El Asador down by Christie Station.
I recently came back from a 2 week trip in Berlin, and it wouldn't be hard to convince me to pack up everything and move there... You can fall in love with that place if you bike down to Tempelhofer Feld with a good book in your bag and cheap beer.
Tell me an interesting story.
When I was a child, I remember going on a holiday in Quebec, a couple hours outside Montreal, and staying at this old cottage of a family friend. The floors of the house creaked just as loudly was the crickets outside. The room I was staying in was covered from top to bottom in wooden artifacts. There was a small lake outside and in the middle of the lake was a tiny island. One morning, we went canoeing out onto the island and I remember the water being quite clear in some areas, you could spy small fish gathering beneath the seaweed (I hated fish at the time, so I was quite scared). After a short row, we reached the island and scattered about the small forest. We walked over tree stumps and broken branches, exploring the landscape. Beneath one of the trees there was a large opening at the roots. It was a door that only a mouse could squeeze through. I swear dainty foot prints were marked in the moss surrounding the entrance.
How has the female role played into your life?
Women surround me! I'm super thankful to have grown with a variety of mentors, both young and old, which have helped fostered trusting relationships. It's important to ask help from others and also return back to the community and care for people who have looked out for you.