HADIYAH HUSSAIN
By HANNAH SOMMER
Hadiyah is a textiles artist studying at Central Saint Martins in London, UK.
Tell us a little bit about yourself.
I'm a 19 year old South Asian girl studying Textile design. My interests lay mainly with exploring culture and heritage; both my own and others. My aim is to educate people through my work in some way, shape or form. My other intents lay in photography, and videography and making small documentary style videos as well as blogging. A good accessory is my weakness in life so I guess If I didn't study Textiles I would go for jewelry / accessory design … but I cannot handle finely things to safe my life so that would of backfired big time! I also love to travel and explore, soaking up the cultures around the world, educating myself and eating all the good food!
What got you interested in textile making?
I think I always loved to create patterns in drawing. I'm in no way a refined artists, however mark making is something that I think I really do enjoy. I have always been texture based and thats what I love about Textiles. I would always feel the fabrics of my own clothes and look up how they were made and specifically the print or design. My main inspiration is my grandmother who has always loved textiles and hand crafts, she gave me my first knitting needles and kept patterns I had created when I was 5/6 years old in her diaries. She encourages me and really got me into the the skill and craft of Textiles.
Who are your biggest influences?
Apart from my grandmother I would have to say designers such as Yayoi Kusama and Zandra Rhodes. I also draw my inferences from Pakistan and India as well as using the fashion industry as a source of constant research point.
How does your work reflect your South Asian heritage?
With the work that I produced last year I really wanted to focus on this idea of honor in my culture and how it can be warped into this ideology that leads to tragedy for so many women in South Asia. I wanted to show the struggles women go through such as, honor killings, child marriages, arranged marriages and the abuse that comes from them. It was a dark subject but It was something that I had never had the opportunity to work with before and it's a subject close to me.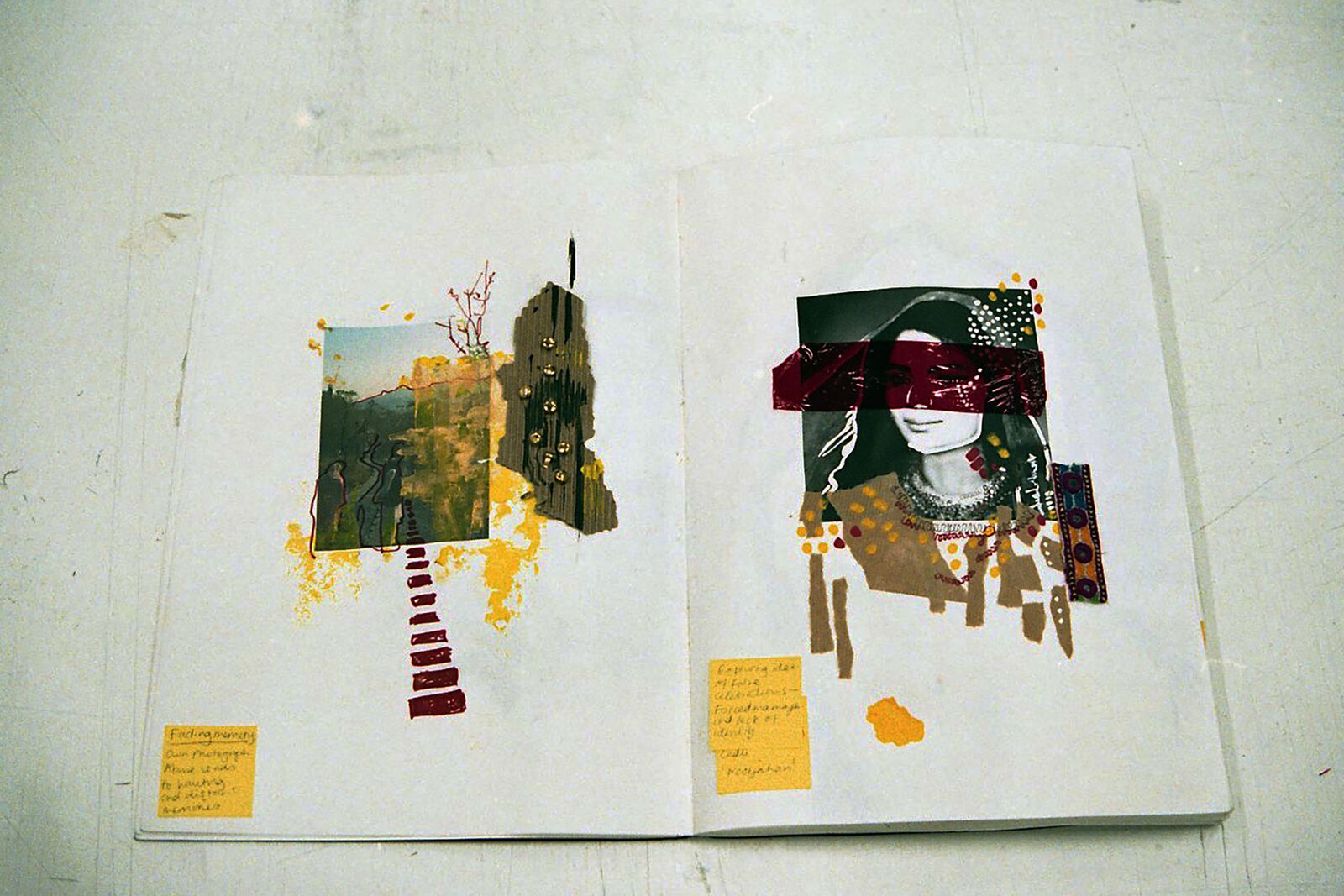 How is your work produced?
I mainly work by collaging and manipulating photography, turning them into my own pieces. I also collage them by using found materials and creating fabrics and 3D layers. I like to work with print but adding a layer and playing with forms.
What mediums do you like to mix in your textile work?
I love to work with knit and print as well as photography and paints. Collaging them all together to create inspiration for my project, OR create bigger pieces of textile or collage.
What is your design process?
Starting with research, I then move on to either collecting photography that links to my idea or if possible take my own series of photographs or create video clips that depict my thought process. From that I tend to move on to mark making and collaging my own designs or just getting my ideas into some sort of surface. It doesn't necessarily have to make sense or refined. From that I work with transferring things into 3D and color works
What challenges do you face as a female studying art?
Good question & I'LL GET BACK TO YOU ON IT
What upcoming projects/ goals are you working towards?
At the moment I'm working with this idea of combining jewelry with my textiles. Looking at creating textiles versions of the Indian gold pieces that I've been brought up wearing and seeing my grandmother and mum wear. It's a personal project that I'm very excited for. I'm working towards finding my own style in the next few years of my degree and continuing to portray my culture and heritage through my work.
Instagram: @_hhadiyah